We transform your design into a vinyl imprint and pressure print the design onto your item. Heat-press allows for full-color designs with a range of finishes (glitter, holographic prism, etc.).
Pricing:
Larger designs cost more; email us for a detailed quote!
Numbered uniforms and jerseys
We offer named and numbered uniforms using heat-press letters and numbers. Choose from the varsity of styles shown below!
Pricing:
Names or Numbers: 1 color- $6 each, 2 color- $8 each
Names and Numbers: 1 color- $12 each, 2 color- $14 each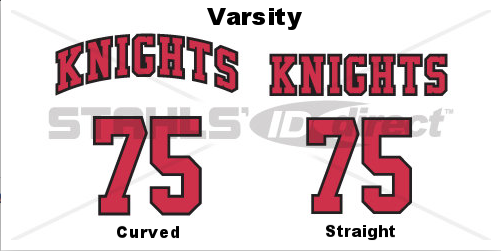 Visit our vendors below to find your preferred apparel style: